How to Ship Consolidated Freight From the UK: The Definite Guide
Nowadays, even for smaller purchases, customers anticipate prompt and free shipping. Businesses must learn how to ship consolidated freight as the need for containerized shipping grows and container waiting time increases. This might put small and medium-sized businesses at a financial disadvantage.
Companies that send goods should familiarize themselves with the different shipping methods. This helps keep costs down while yet keeping production going. Freight consolidation can reduce shipping costs.
Consolidated freight has several advantages, which we will discuss in this article. At the end of this write-up, you should understand freight consolidation and all the benefits it can bring to your supply chain
What is consolidated freight?
Freight consolidation involves sending many less-than-truckload shipments in one full container. Consolidated shipping is more cost-effective than less than truckload rates because shippers only pay for the space they use as part of the consolidated shipment. There are considerable differences between consolidated freight and farcel shipping. People often get confused with the differences so we suggest having a distinct idea about the differences.

Many shipments with the same destination are combined into a single container or vehicle for more accessible transportation.
Ways to ship consolidated freight
For businesses, you have different types of consolidated shipping that can help you save money. When deciding between LCL, LTL, and FTL, you should consider the freight class, the volume of items, and the delivery dates.
Let's look at some of these terms since they might sound Latin.
Less than container (LCL)
Shipping cargo that only fills part of the container might get pricey. Instead, freight can be consolidated with other companies to fill containers. Shipments are charged at a volume discount when they are combined. When such takes place, it is called less than container shipment.
Less than truckload (LTL)
When shipping LTL, the truck is partially complete. Trucking companies would sometimes mix multiple LTL shipments from various companies to maximize loads.
Full truckload (FTL)
FTLs are precisely what they sound like. Your shipment will not be mixed in with others; you will have the vehicle to yourself. In this situation, all the items in the shipment belong to you.
When should you consider consolidated freight?
It's not enough to think that you need consolidated freight. You must know when it is right to consider such a thing. If you find yourself in the situation below, you are due for a consolidated freight.
Any shipments that exceed either 108 inches in length or a total of 150 pounds in weight
Items with unusual dimensions
Fragile or valuable items such as artwork or antiques
When you want to send multiple smaller packages to the same destination
Why do you need to choose consolidated freight for your business?
Despite the numerous benefits of choosing freight for your business, here are the top options worth considering when you want to understand how to ship consolidated freight.
Reduced cost
Most trailers have a minimum usage percentage, so even if you use 50% or 60% of the trailer, you will still be charged for the whole shipment. With consolidated freight, you can combine multiple LTL shipments moving in the same direction with a single FTL shipment.
The shipper is responsible for paying only for the volume of freight transported. This helps your consolidated freight shipping cost since you don't have to pay for the entire shipment, thereby saving you more money.
Reduce Risk
Shippers continue to struggle with an issue that has been around for a long time: damaged freight. Shipping can go wrong, which is sometimes an unavoidable aspect of running a business.
Shipping your items together in one package saves you money and cuts down on the number of times your freight needs to be handled back and forth. When you consolidate your freight and work with a shipper with prior shipping experience, your goods will be in safer hands.
Better quality control
One further advantage of consolidated shipments is the increased speed with which you can assume control of the items in your possession. If, for some reason, quality control notifies you that there is a problem with your shipment after it has already been dispatched, you will typically be required to wait for the supplier to deliver a replacement, which indicates that the schedule for returning the goods is no longer in your control.
Freight consolidation allows you to carry out quality control procedures before the goods even reach the warehouse. This, in turn, decreases the likelihood of wasting time and control because of unanticipated problems with your order.
Increased customer satisfaction
Delivery delays are the worst possible experience for customers. In addition, to retain clients, businesses must constantly adapt to meet new demands. The need to consider a freight consolidation solution is more significant than ever in today's incredibly competitive market.
Smaller but more regular orders are what retailers and purchasers are looking for. This results in reduced inventory requirements and quicker delivery times. One approach to reducing delays and boosting productivity is consolidating your freight shipments. In addition, you can use special consolidated shipment tracking software to check if customers have received their goods.
Improved relationships
Using combined freight allows you to network with other suppliers and shippers. Companies that use LTL shipping on the same routes can form alliances to share the shipment costs. You can increase the likelihood of receiving high-quality service by cultivating connections with consolidators and carriers.
What challenges might your business face with consolidated freight?
It's hard to avoid the challenges when learning how to ship consolidated freight. Interestingly, these challenges are not common to your business alone. However, if you decide to use consolidated freight, here are issues you might encounter.
Finding reliable carriers
Not all shipping companies will transport consolidated shipments because of the complexity involved. Ensure you are well-informed and priced even when you discover a carrier ready to deliver your aggregated shipments. If you want to make sure you obtain a reliable carrier at a reasonable price, working with a 3PL can assist.
It requires adequate planning
A consolidated shipment requires more time to be arranged and prepared, but it can save time. You must know details such as cost, size, scheduling, and more to ensure that your shipments arrive safely and on schedule. The time it takes to plan can disrupt your business activities.
Not valid for all shipments
A consolidated freight shipment should not be used for fragile, fresh, or hazardous materials. You can lose money and upset your clients if you sell damaged or outdated goods. It's risky to transport dangerous items alongside other goods. In addition, consolidation might add time to the delivery of foreign shipments that must clear customs.
What consolidated service options are available for your business?
Whatever type of business you operate, consolidated shipping methods always exist to transport your items. However, your option will depend on your available items and resources. Here are the consolidated means to transport your products.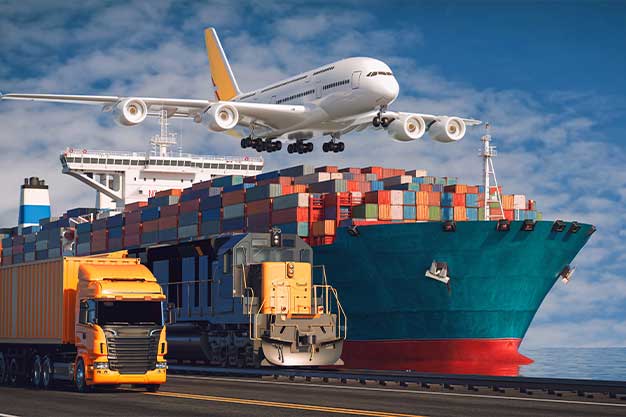 Air
Multiple shippers' cargo shares the same airplane. Each cargo has its own house waybill in addition to being included on a master waybill.
The speed of airfreight consolidation ensures that your shipment will arrive at its destination as soon as feasible. The high price of airfreight consolidation is a drawback. Shipping goods via airplane is typically the costliest option.
Sea
When transporting bulky items, sea freight is your best bet. LCL cargo is often distributed throughout shipping containers that range in size from 20 feet to 40 feet in length and height. Shipping internationally by sea is an excellent option because it is more cost-effective than shipping via air.
Land
In this context, less-than-container-load shipments (LTL shipments) are the norm. These deliveries can only fill part of the truck and must be combined with other deliveries. While ground shipping is the most affordable option, it is also the most time-consuming and prone to delays.
FAQs
How do you consolidate shipments?
A shipper engages in freight consolidation when they send many shipments from the same region to the same destination region in one cargo. Regional carriers separate the load into pieces and transport it to other locations.
What does LCL stand for?
Less than container load is an abbreviation used in the logistics industry. When a single shipper does not have enough cargo to fill an entire container, the shipper might opt for LCL shipping. When this occurs, orders and shippers must share container space to fill the container.
Is it a good idea for companies to use consolidated shipments?
Ground shipping consolidation saves time and money when compared to air shipping. If you're hauling palletized goods, this is the way to go. A more efficient and well-run distribution facility is the result of clearing a customer's dock.
Who is responsible for paying for consolidated freight?
In a perfect world, the seller would cover the transportation costs from the seller's warehouse to the buyer's retail location. In most cases, the terms of sale specify who is responsible for paying the freight.
What more?
Shipments can be delivered more quickly and affordably using consolidated freight. To organize deliveries efficiently, it is crucial that shippers comprehend the consolidation process and the many consolidation choices available to them. Using a trustworthy consolidator with relevant experience is crucial for the smooth operation of consolidated shipping.