Consolidated Freight vs Parcel Shipping [Expert Comparison]
In the past, selecting between consolidated freight vs parcel shipping was a simple matter of weight. Items that weighed less than 150 pounds went parcel, and those heavier than 150 pounds went freight. Nowadays, parcel shipping firms like DHL, UPS, and FedEx can ship items weighing over 150 pounds, meaning that the choice between freight and parcel services is unclear. Read this blog to know the differences between freight and parcel shipping.
Consolidated freight vs parcel shipping: What are the differences
The difference between consolidated freight shipping and parcel shipping can take time to identify on the surface. If you use both services sparingly, you can find it daunting to identify the shipping option you need. However, some definite factors can make a difference to your shipping experience such as pricing structure, transit times, and security risk. When you know the main differences between consolidated freight vs parcel shipping, you can determine which one is most suitable for the items you want to ship.
The main difference between consolidated freight vs parcel shipping is the size of the package to be shipped. In general, packages shipped via parcel shipping are light and small enough for someone to lift without help. Typically, these packages weigh under 70 pounds. However, they can be heavier if they meet the carrier's size restrictions.
The packages shipped by consolidated freight services like less-than-truckload shipping LTL shipping are usually larger, over 150 pounds. The shippers usually palletize them for extra protection. If you want to ship a package that weighs between 70 and 150lbs, you must make a choice. The factors you should consider include:
● How far your cargo will travel.
● Package density – This is how much your package weighs in relation to its size.
● If you need expediated services.
● If your package is oddly shaped or fragile.
You might be asking yourself; how should I know when to ship via freight or parcel? Here is a closer look at the differences between consolidated freight vs parcel shipping to help you make the right decision.

What is involved in parcel shipping?
Parcel shipping is the same as a regular post, and familiar shipping firms like DHL, FedEx, UPS, and the U.S. Postal Service offer this service.
Key qualities
● The parcels are usually self-packaged, or the carrier packs them for an extra fee. They are labeled individually.
● The shipper sorts the parcels on conveyor belts, and people load them into local delivery vans and shipping trucks. The parcels must be light enough for easy lifting and small enough to get into sorting machines. They usually weigh less than 70 pounds.

Size and weight restrictions
All parcel shipping carriers have their own weight and size restrictions. Here are the maximum length, weight and combined girth and length dimensions that the three major carriers allow:
| Carrier | Maximum Length | Maximum Weight | Maximum Length+girth |
| --- | --- | --- | --- |
| FedEx | 119 inches | 150 lbs | 165 inches |
| UPS | 108 inches | 150 lbs | 165 inches |
| USPS | 108 inches | 170 lbs | 130 inches |
If packages exceed these restrictions, the shipper can add significant surcharges. Consolidated freight is a more cost-effective and safer choice in such a situation.
Pros
● It can be less costly because of the larger amounts of packages sent.
● More checkpoints make it easier to track a package.
Cons
● Packages may get lost, delayed, or damaged because of many transfers.
● There could be significant surcharges for packages exceeding size or weight restrictions.
● Some carriers restrict what customers can or cannot ship.
Factors that determine the cost of parcel shipping
Four main factors determine the expense of shipping items using parcel shipping services. They include:

● Speed
● Distance traveled
● Weight
● Size
Heavier, larger cargo can incur higher fees. Shipping cargo faster or over long distances also usually costs more.
What is involved in consolidated freight shipping?
If you ship cargo using consolidated freight services, the products will share space on the truck with other items heading in the same direction. You will pay only for the space your items consume on the truck.
Key qualities of consolidated freight shipping
● Products are usually shipped on secured pallets to ensure easy loading and added protection as well as stability. You can pack the items or have professionals pack and palletize them.
● Forklifts are commonly used to move, load and unload pallets and other items.
● Shipments usually travel long distances. Therefore, the items can travel from one shipping zone to the other without reloading along the journey. Zone skipping can keep your shipping expenses lower compared to the cost of parcel shipping services.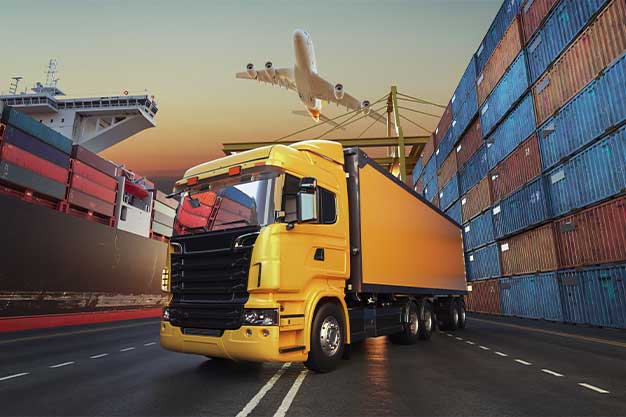 Pros
● Suitable for oddly shaped or larger packages and palletized shipments that weigh between 200 and 600 pounds.
● Fewer transfers and checkpoints mean there's a lower risk of damage or loss.
● It's ideal for shipping high-value items like artwork, furniture, and antiques, among others.
● Security is assured because items are usually transported in special environments meant to prevent destruction.
● Experienced professionals with specialized skills handle the cargo.
Cons
● Fewer checkpoints mean that up-to-date tracking is lower.
● The timelines are longer.
● It can be costlier than parcel shipping.
● It may not include loading or packing services.
Factors that determine the cost of consolidated freight shipping
The price of consolidated freight shipments depends on standardized freight classifications. The National Motor Freight Traffic Association defines freight classifications based on four factors. They include:
Stowability: This is the difficulty or ease of carrying and loading the cargo onto and off a truck.
Density: This is the space your items occupy in relation to their weight. When there are no special considerations regarding handling, stowability or liability, density is the most crucial factor used to assign a freight class.
Liability: This is the probability of damage or theft and how likely it is for damage to occur to adjacent freight.
Handling: Some cargo needs special attention because of its shape, fragility, weight, and other safety hazards.
Heavier, larger cargo can incur higher fees. Shipping cargo faster or over long distances also usually costs more.
Other factors to consider regarding choosing the best shipping method
To choose the best shipping method, you must consider other factors like:
Security and risk
Handling and packaging practices can vary between consolidated freight vs parcel shipping, and this can affect your shipment's risk of damage. Both shipments have packaging requirements, which include protective material in the container to reduce the risk of damage. Freight shipments usually use binding material like shrink wrap to ensure that boxes stay together. This reduces the risk of damage during shipping.
Due to their small size, parcel shipments are easier to handle and are typically sorted automatically through the carrier conveyor system. Carriers then take them to a regional location and transfer them through several service terminals and stops until the final delivery.
All the handling and the smaller size of loose parcels increase the risk of misrouting or losing boxes. Freight shipping also includes transfer and loading at several stops, but this is less frequent compared to parcel services. When the stops are fewer, there's less loading.
Driver service level
A vital point to remember when considering consolidated freight vs parcel shipping is a truck driver's level of involvement regarding handling the shipment. When shipping items through common carriers like UPS and FedEx, people load, unload, and deliver them by hand. The shippers must properly package and label the parcels. The receivers must check the shipment carton count and look out for any damage. Drivers take care of handling the parcels, including inside or pick-up delivery.
Freight shipping is different. The drivers only move the freight from the pick-up location to the destination. The shipper and consignee must have a team ready to handle and unload the freight, meaning that the driver does not assist. You can request a driver to help, but this is regarded as a special service.
FAQs
1. When should I use consolidated freight shipping services?
You can opt for consolidated freight shipping services when you need to transport oddly shaped cargo like furniture, items with special shipping needs like artwork or antiques and packages weighing over 150 lbs and are over 108 inches in length. It's also advisable to choose consolidated freight shipping services if your timeline is flexible.
2. When should I use parcel shipping services?
You can opt for parcel shipping services when you need to ship small packages that weigh less than 150 pounds or are less than 165 inches in combined girth and length. Also, this is a good option when you want to ship packages within a short time frame.
3. How do shippers calculate prices?
One of the major differences in consolidated freight vs parcel shipping relates to how prices are calculated. Several variables determine freight pricing, including fuel cost, distance traveled, the shipment's classification and additional services. Carriers set lane pricing and some routes across the nation can be priced more competitively than others based on the location type or volume of industry. Carriers also tend to have various liability coverage levels based on the freight class. Parcel pricing can also be complex. The kind of service a customer requests also determines the cost.
4. What is dimensional weight pricing?
Dimensional weight pricing is popular with common carriers. In this pricing option, the price is based on the package volume in relation to its weight. Shippers implemented the practice to reduce awkwardly sized shipments which cause space wastage in a carrier's truck. Calculating the dimensional weight properly can help you to precisely predict your shipment's cost.
Conclusion
When you know the differences between consolidated freight vs parcel shipping, you can choose the right service and save money on shipping expenses. If you want to ship heavier and larger items or combine several shipments into one load, it may be appropriate to use an LTL freight service. Whereas if you are shipping single, smaller boxes and want quicker door-to-door service, parcel shipping is more suitable.