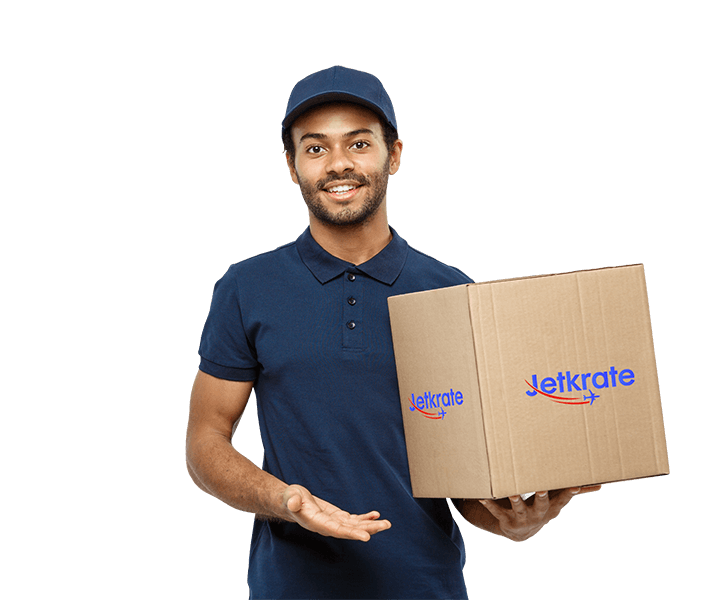 Cheapest International Parcel Shipping To Germany From New Zealand
Many shops do not accept shipping to Germany from New Zealand, which makes international buyers disappointed and frustrated. Fortunately, you still have a choice to get your desired items when you can't convince the seller to ship the products to your location. Start receiving packages straight from New Zealand through Jetkrate. Just order the things you need, and we'll do the shipping for you.
Our Partners for International Shipping Service from New Zealand to Germany
As of now, we offer three facility options for the cheapest international shipping methods for our clients in Germany. As soon as we launch our other warehouses in New Zealand, we will add more package shipping services internationally to cater to every client's preference and budget.
FedEx International Priority
With FedEx International Priority, you can start shipping to Germany from New Zealand for as low as $83.68 NZD. This courier's estimated delivery time is five business days. You can expect delivery within just a few more days upon your parcel's arrival to Germany. Track your package's location using the tracking details given to you.
FedEx International Economy
At FedEx International Economy, your parcel's transit time is seven business days. This option will take longer than their International Priority option, but its cost is also cheaper. You can start buying and shipping straight from New Zealand at a minimum international shipping rate of $75.58 NZD. Additionally, you can locate your package in real-time with the tracking information sent to your account.
DHL Express Worldwide
The cheapest international parcel service among the three is DHL Express Worldwide. You can enjoy shipping packages to Germany for a low cost, $59.40 NZD. Your parcel needs six business days to arrive in your territory. Remember to track your package using the provided details.
All of our international shipping services include multi-piece packages, tracking information, and insurance coverage. You can comfortably choose whichever facility you prefer. We assure you that you will receive your parcels accordingly. If you want, you can use our free tool to estimate the shipping cost.
Send Your Parcel To Germany at Low Cost from New Zealand
If you're worried about paying a hefty amount for shipping, you can always try our free shipping calculator online for an estimated charge. You can select the country, enter your package's dimensions and get a free estimate. If you're unsure of your parcel's exact size, you can simply choose an item on our list, and we will compute the shipping cost for you; no matter whether you want to ship to Turkey, Germany, or any other part of the world, you will get your estimated cost.
Buy Your Product from New Zealand and Ship to Germany
Most New Zealand stores do not accept certain overseas credit cards or payment methods. This discourages many buyers, causing them to abandon their cart and never return. Based on our in-depth analysis, we formulated a shopping system where you can let us buy the item on your behalf. All you need to do is tell us the details of the products you want to purchase and pay us the item's amount. Once we have purchased the item, we will arrange the shipping according to your preference.
Why Trust Your Packages with Our International Shipping Service to Germany?
You don't need to worry about shipping to Germany when you buy from a New Zealand store online. We can assist you with the shipping so that all you need to do is relax and locate your parcel at your own convenience. Jetkrate has received various compliments from our previous clients, and we want all international buyers to have the same satisfying experience.
Receiving Parcels
We automatically send our clients an email confirmation every time we receive an order to our warehouse. We remove the frustration of waiting and guessing whether your parcel is on the way or not. We are dedicated to making your shopping and shipping convenient and hassle-free. So, rest assured that we will notify you about your package's movements.
Quality Checking
As soon as we receive your parcel, we can open it up and confirm if the item is correct or not. This is optional, and we will never open your items if you don't want us to do so. Many clients prefer this perk because it helps customers determine whether to file for a return or not. Local returns are much cheaper than international returns. Additionally, this option lessens the hassle of returning the package by yourself. We will send a photograph of your item through email.
Consolidating Packages
Upon your request, we will combine multiple items in one package to reduce your shipping cost. We will inform you whether we can consolidate the parcels or not. Coordinate with us if you are interested in this benefit.
Repacking
You can request to repack all your orders to lessen your shipping cost. However, not all items are eligible for repacking. So, always ask our representatives for the terms and conditions of repacking.
Tracking Parcels
We always give our clients unique tracking information, which you can use to locate your parcels at any time. This will ensure that your package is not lost and is indeed coming your way.
Please do not hesitate to reach out when you have questions or concerns regarding our services. You can always talk to our customer support via Live Chat any time during business days. You can also email us at support@jetkrate.com or fill out our web form. We will always find time to answer all your messages and assist you in the best way we can.