JetKrate: Your Trusted Partner for Shipping from the UK to Australia
Even in this age of globalization, shipping from the UK to Australia continues to be inconvenient and expensive. But not anymore!
With Jetkrate's extensive shipping network and affordable services, customers can shop to their heart's content from top UK stores and get the products delivered to their doorsteps in Australia.
What is Jetkrate's UK to Australia Shipping Service?
Many of the top UK brands are currently unavailable in Australia. So, Australians have to shop for their favorite products from these UK brands from their UK stores and get them delivered to Australia.
With Jetkrate, you can get these products delivered to our warehouse in the UK. Once all of your products reach our warehouse, we'll repackage them and ship them to your Australia address.
Here are some of the highlights of shipping from the UK to Australia with Jetkrate -
Affordable and Transparent Pricing

Trusted delivery partners like FedEx and DHL

3 simple steps to book your UK to Australia delivery

Optional insurance for added security

Consolidated shipping for maximum savings

30-day free warehouse storage

Shopping concierge service

24x7 customer support
Shipping from the UK to Australia Procedure
To offer enhanced convenience to our customers, we've streamlined the entire shipping process. Here are 3 simple steps you can follow to book your UK-to-Australia product delivery -
Register for a Free Jetkrate Account
Visit Jetkrate.com and register for a free account. Unlike most other mail-forwarding companies, we don't charge any account subscription fee. After creating an account, you'll receive the shipping address of our UK warehouse.
Start shopping from your favorite UK stores and enter our warehouse address when checking out. Shop for a single product or purchase multiple products from various stores. Once your product/s reaches our UK warehouse, we'll send an email confirmation to you.
After receiving an email confirmation, log in to your Jetkrate account and view all your products that have arrived at our warehouse. Select the products, choose a shipping service, and make the online payment. We also have a shipping cost calculator to ensure complete transparency. After receiving the payment, we'll repackage the product/s and send them to your Australian address within one business day.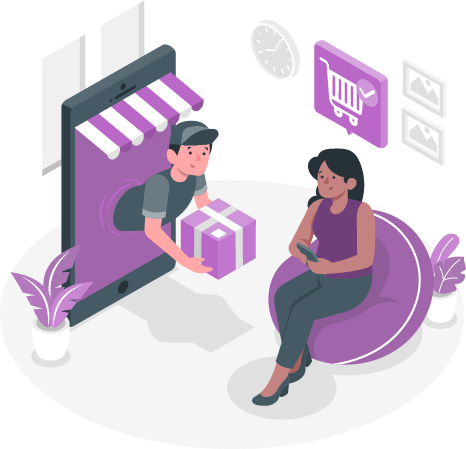 Our Delivery Partners and Services
For timely and cost-effective shipping, we only work with the most reputed companies in the industry like FedEx and DHL. Moreover, we offer various shipping plans to ensure customers can conveniently choose one according to their requirements. Our services include-
FedEx International Priority
FedEx International Priority takes five business days for the shipment to arrive in the customer's country. Clients who use this courier will often obtain a tracking number, as well as other shipping information, to help them locate their parcels more quickly and accurately. Customers can opt to insure their packages for an additional fee.
FedEx International Economy
FedEx International Economy is a cheaper delivery option than FedEx International Priority, but it offers the same benefits and perks, such as tracking information and insurance. This service, however, takes the longest of our courier options. The transit time to the chosen location is eight business days. This option is better for those shoppers who don't immediately need the items they ordered.
This courier is the most affordable service Jetkrate provides. It is also the quickest method. DHL Express parcels can arrive in another nation within two business days, and clients receive their items within three to five working days. Customers can also add insurance to their products. They may use the tracking ID provided to identify the current location of their package, too.
Customers can also opt for optional insurance when shipping high-end and expensive products from the UK to Australia.
Things to Keep in Mind When Using Our UK to Australia Shipping Service
Before placing a delivery order, here are a few things you should keep in mind-
Correctly enter the UK warehouse address when checking out from a UK store

Provide accurate contact details to receive all the order updates

Check our prohibited and restricted items page before confirming your order

Choose consolidated shipping when shopping for multiple products to save money

Use our cost calculator for an instant shipping cost estimate

Use our 24x7 customer support if you have any queries or want to learn more about our services
Ready to Ship Products from the UK to Australia?
Jetkrate simplifies shipping from the UK to Australia and ensures all your products reach you on time and in perfect condition. If you love shopping from UK stores and want the products delivered to your Australian address at the earliest and at cost-effective prices, look no further as Jetkrate is your one-stop solution.
Contact us today or use our Live Chat feature to know more.