Managing Parcels/Packages When You Are Constantly On The Move
Every day, parcels are shipped out. One's parcels and packages are the containers which transfer them from one destination to another, but they are not the same as protective packaging. The purpose of barrier protection packaging is to protect shipped items from harm and damage. During transportation, packages are subjected to dropping, rough handling, and movement from transport, making them vulnerable to any damage.

Do you want to learn how to pack and move quickly? Are you looking for ways to make moving easier and simpler? If that was the case, some of these moving tips might change your perspective on moving for the better. Take a bit of time to become acquainted with these skillful moving tricks, hacks, and organization ideas that can assist set the tone when managing parcels/packages when you are constantly on the move.
Tips for Packing:
Set a timer for an hour of packing per day.
Make sure you don't bite off more than you can chew. Whenever it comes to wrapping, break it down into steps. If you procrastinate and seek to pack everything the night before, you will most likely become stressed.

Take it one room at a time and set aside an hour every day to pack items into packages. Pack in pairs or sets, and make sure your package is strong enough to contain a complete set of belongings.
To avoid leaks, wrap the container in a wrap.
Start taking care of anything that has the possibility of spilling. For example, a shampoo bottle that appears to be tightly sealed outside of a box could somehow magically find a way to ooze all over your other belongings. Keep all toiletries and liquids segregated from dry items in this case. Recognize using plastic wrap to create an extra seal between the bottle and the container.
Types of Packaging:
Sets of Padded Dividers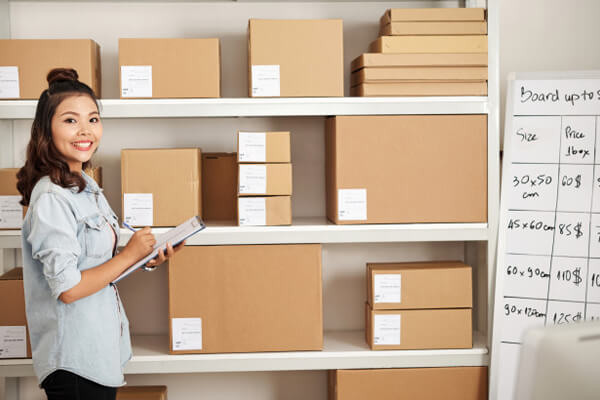 Padded sets are sectioned padded boxes which are used to coordinate items that are shipped. They have a padded surface all over their bodies and padded covers for added support.
Despite the fact that this type of packaging comes in a variety of sizes, there are a few things to keep in mind:
They work best for holding small particles.
When mailing a collection of items, they can provide optimal protection.
They are divided into compartments by small walls.
Padded divider sets make it possible to ship two incompatible items in the same package.
Bubble Wrapping
Bubble wrap comes in a variety of shapes and sizes, but bubble bags are the most common. Here are a few things to keep in mind when using bubble wrap:
They are also available in roll form, which is useful for wrapping items.
They provide protection as well as packaging.
Peanuts Wrapping
Packaging peanuts are similar to the shape of a peanut but they are close to the size of unshelled peanuts. This kind of packaging material is here for some more:
Peanuts with items in bunches are included in packaging.
They protect fragile items as a filler.
They use empty space and surround the protected objects closely.
It is usually included in carton boxes.
They create an effect of coating.
They can be used to hold clots and other unique applications in place.
Foam for packaging
It includes a wide range of products which can be shaped and cut into any form suitable for a particular item. They are better protected from damage when the items are enveloped in packaging foam. The moisture packaging is denser and larger in size than small weight packing. Some useful hobbies are here:
For the packaging of spam there is no definite shape.
Beloved types include sheets, rolls of sponge, foam rolls and crates of egg.
The makeup of packaging foam is more diverse, so that one standard material is rarely found.
It can be wrapped together with a certain item individually.
This category of protective packaging is firm.
The protection level needed in a certain product can be customized.
Paper for Wrapping
Wrapping paper is a type of wrapping used in various packaging applications. It is much thicker and stronger than regular paper writing, and it is available in a variety of colors and textures, including brown paper, carton, etc. Usually it is sold in rolls. Here are some further details of the packaging paper:
The paper pack should be supplemented with a tape or adhesive to maintain it in place.
Adhesives are less necessary when used in large quantities.
Returns: Internal and External Relations
It is inconvenient to return a product you ordered from stores overseas. However, it is sometimes inevitable; thus, forwarding enterprises should offer services that will improve return handling. Domestic returns are more accessible to solve than International returns. That is why it is essential to create a fixed return policy that will help simplify the overall process.
Here's what you can do:
Provide customers services that will help them identify their order's situation. Let your customer know if their items are damaged or incomplete before international shipment.
For domestic returns, allow your customers to drop their packages at your shop.
Arrange couriers for your customer for easy pick-up and transportation handling.
Let customers process their returns online.
Create a separate space for packages that are needed to be returned for quick sorting.
Use the appropriately sized boxes.
Heavy items, such as books, should be placed in small boxes, while lighter items should be placed in more prominent boxers. This allows movers to organize and pack boxes into the moving truck easily. To avoid damaging breakables, pack heavier items on the bottom and lighter items on top.
Establish Online Package Management.
It would be beneficial if you let your clients manage their parcels online. Seeing all packages on one page is more convenient than viewing them from their personal email. Let them navigate a single page to see their package's movement, invoice, and packing requests.
Conclusion
Protective packaging is a must for moving and shipping supplies. No universal product-scale packaging can be used. But it is vital to use suitable protective packaging, and the difference between a safe, intact shipment and a destroyed one can be made.